Tester Auto profesional Original Autel Maxidas Ds808 versiune 2020 Update 12 luni FREE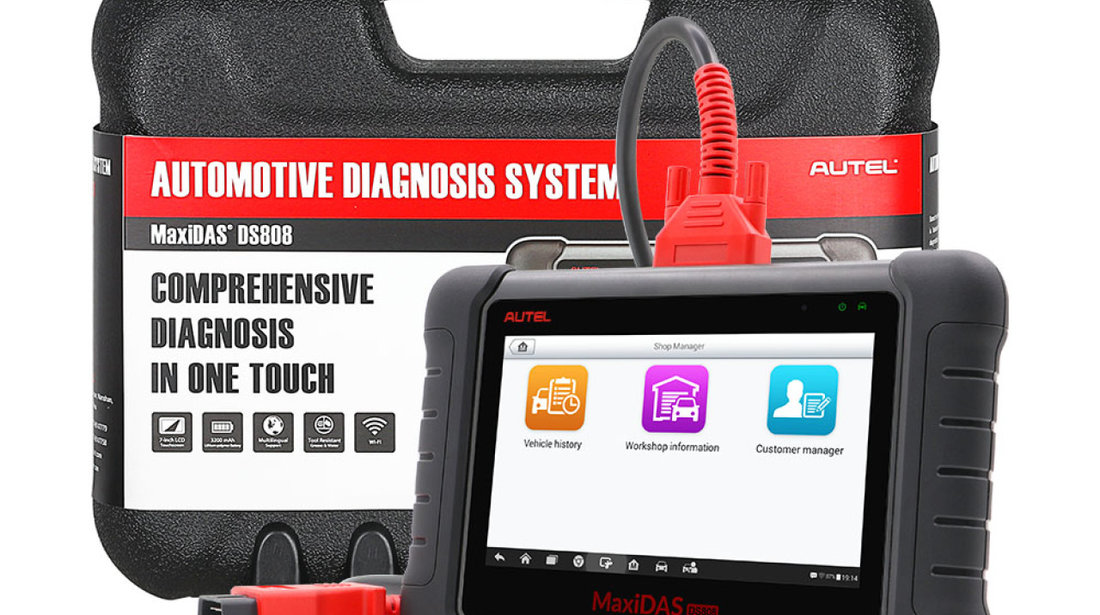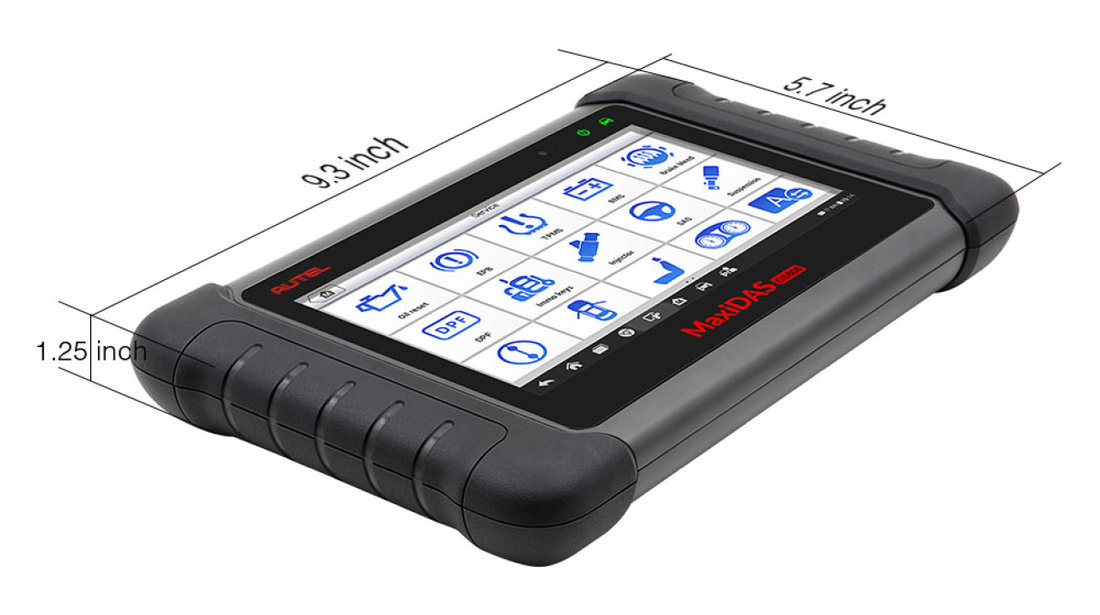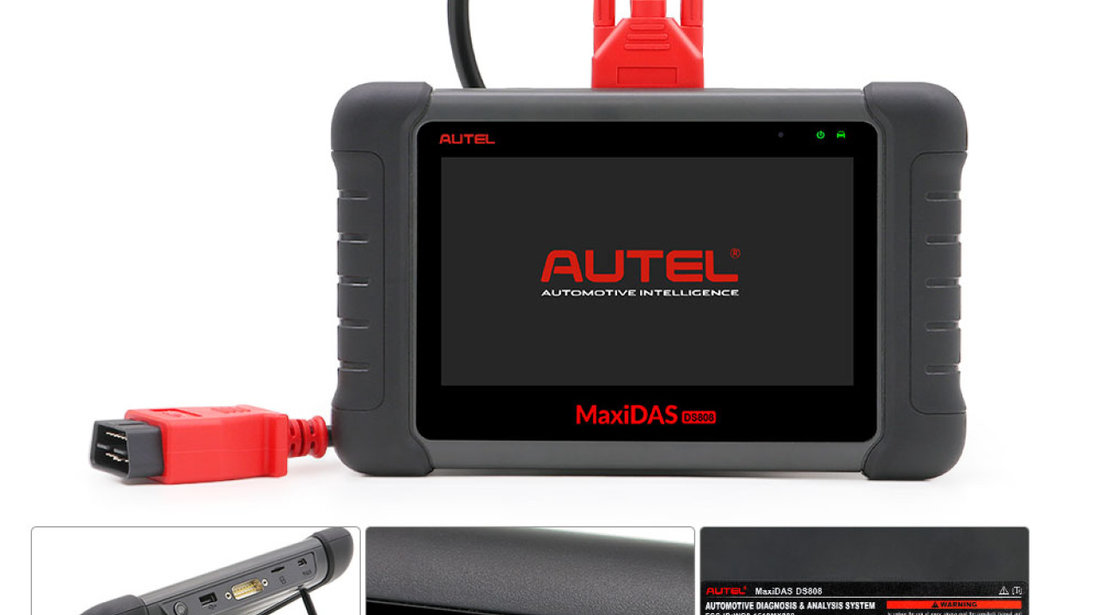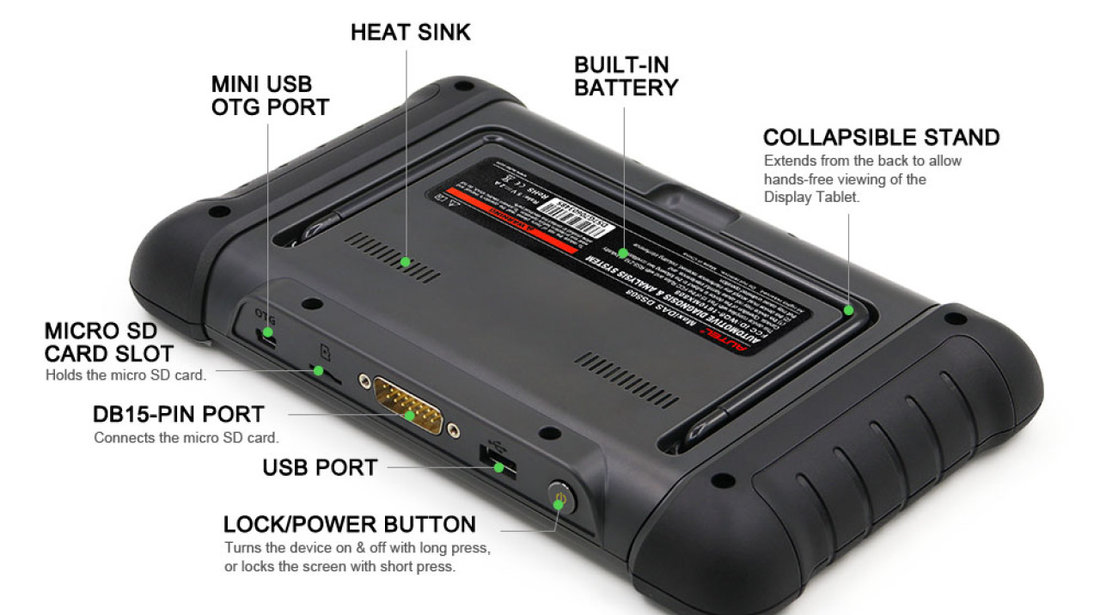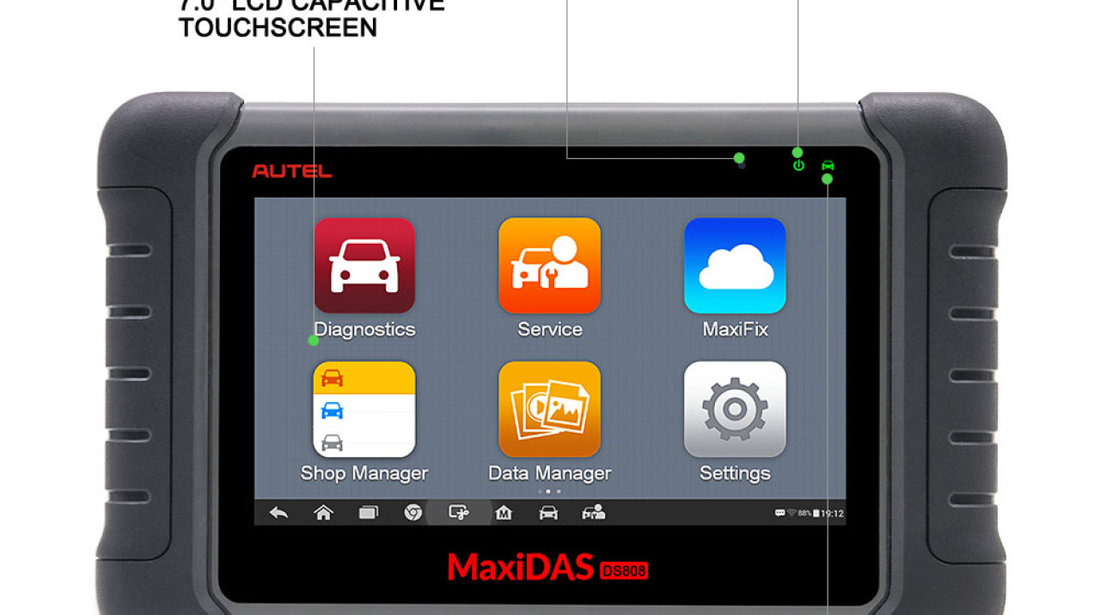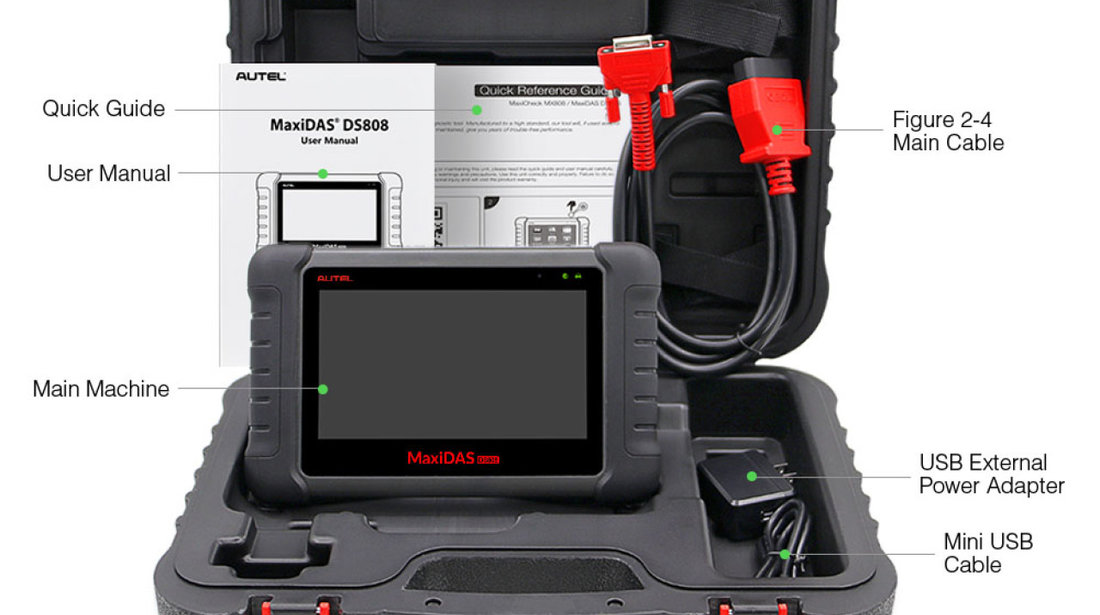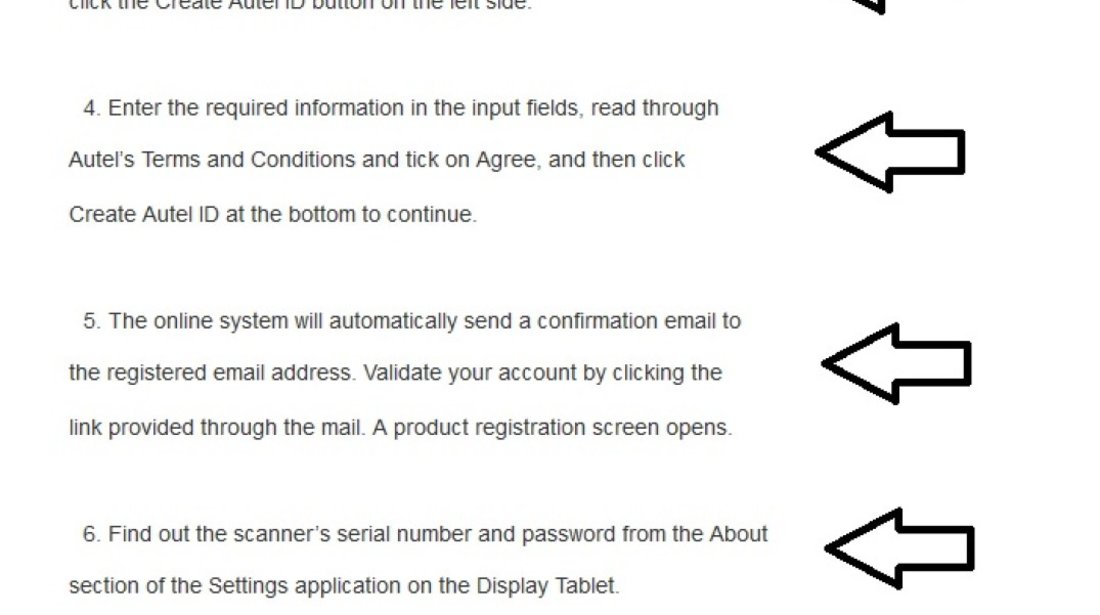 1 / 7
Este un tester universal multimarca ultraperformant update la Autel DS708, produs original de diagnosticare autoturisme, este usor de utilizat, ofera rapid, stabil si precis informatii cuprinzatoare utilizand o platforma tehnica de mare performanta fara sa mai aveti nevoie de un laptop. Are 12 luni garantie internationala la fel cum este notificat pe site-ul producatoruluiiar in colet veti primi individual user-ul si parola de acces pentru inregistrare on-line.

Accesarea tuturor sistemelor diagnosticabile :

Motor
ABS/ESP
Airbag
Cutie ATM
Inchidere centralizata
Suspensie pneumatica
Radio/Cd
Climatronic
Turela electrica
Tv tunner
Telefon
Sirocol
Xenon
Senzori parcare
Frana electromecanica
Restul sistemelor

Functii generale disponibile pe fiecare sistem accesat
(pentru detalii consultati fiecare marca)

Identificare calculator
Citire Coduri eroare -codurile sunt redate explicativ
Stergere Coduri eroare
Vizualizare parametrii pe fiecare calculator accesat -motor,cutie,abs,airbag,etc
Testare actuatori -activare/dezactivare/testare componente -egr,turbo,pompa,injectoare etc
Codari pe module
Adaptari pe module
Resetare interval service

Abilitati specifice MAXIDAS DS808

Meniul aplicatiei este identic cu meniul testerelor de reprezentanta la majoritatea marcilor incluse.
La majoritatea marcilor la citirea valorilor reale este data si valoarea specifica date de producator.
La grupul VAG fiecare canal are valorile descrise,fata de alte testere care afiseaza doar valoarea fara descriere.
Functionare rapida datorita procesorului dual ARM
Ecran Full color luminat cu functie touchscreen
Acces internet direct pe ecranul aparatului prin Wireless sau LAN
Diagnoza prin remote
Update de software direct din meniu
Functie PrintScreen si Data Logger
Imaginile salvate pot fi mai tarziu imprimate prin conectarea cardului SD la un calculator personal.
Posibilitatea instalarii unei imprimante wireless.
Autel Maxidas DS808 Features:
Extensive vehicle coverage for more than 80 US, Asian and European vehicle makes

Exceptional OE-Level system coverage for all electronic systems
Complete capabilities for codes, live data, active test, ECU information, adaptation, matching, etc.
Smart AutoVIN technology for identifying vehicles easily
Automatic system and software updates with real-time push message notifications via Wi-Fi
Instant remote control tech support anytime, anywhere
Cloud-based MaxiFix online community provides a vast database of diagnostic and repair tips and proven filed fixes
Interactive Data Logging sessions enable direct contact with Autel Technical Support for first-hand troubleshooting of diagnostic bugs and errors
One-stop multitasking designed for ideal management of workshop operations to keep all data files, customer info, and vehicle records well organized
Convenient data management system for managing internal program applications and reviewing data
Autel Maxidas DS808 Diagnostic Function:

retrieve ECU information,
read & erase DTCs
view live data
perform active tests.

The Diagnostics application can access the electronic control unit (ECU) for various vehicle control systems, such as engine, transmission, antilock brake system (ABS), airbag system (SRS) and more.


Autel Maxidas DS808 Vehicle List:

1. European vehicle list:
for AUDI, for BENZ, for BMW, for DACIA, for EU FORD, for LANDROVER, for MINI, for OPEL, for PEUGEOT, for RENAULT, for SEAT, for SKODA, for VW, for VOLVO, for SMART, for JAGUAR, for BENZ SPRINTER, for SAAB, for FIAT, for ABARTH, for LACIA, for ALFA ROMEO, for VAUXHALL, for MAYBACH, for BENTLEY, for BUGATTI, for PORSCHE.

2. USA vehicle vist:
for GM, for CHRYSLER, for FORD

3. Asia vehicle list:
for SUZUKI, for KIA, for DAWEOO, for ISUZU, for TOYOTA, for SUBARU, for SCION, for NISSAN, for MITSUBISHI, for LEXUS, for INFINITI, for HYUNDAI, for HOLDEN, for HONDA, for ACCURA, for MAZDA.

Autel Maxidas DS808 Usermanual:

This manual contains device usage instructions, pls contact with us freely.

 
Autel Maxidas DS808 Update:

1.  Make sure the Display Tablet is connected to a power source with stable access to the internet.
2.  Tap the Update application button from the MaxiDAS Job Menu; or tap the update notification message when received one; or tap the
Update icon on Vehicle Menu in Diagnostics application. The Update application screen displays.
3.  Check all available updates: If you decide to update all the items, tap the Update All button.If you only want to update one or some of the item(s), tap the
Update button on the right column of the specific item(s).
4.  Tap the Pause button to suspend the updating process. When you tap Continue to renew the update, the updating process will resume from the break point.
5.  When the updating process is completed, the firmware will be installed automatically. The previous version will be replaced.
Autel DS808 Package List:
USB External Power Adapter
USB External Power Adapter
Stare produs
Nou / Fără factură / Cu garanție
Piesă auto compatibilă cu:
Bentley Turbo S
Kia Mini
Mini One
Renault Rapid
Skoda Rapid
Data actualizării anunțului:
21 Nov 2022, 09:54